The energy transition is at the heart of the SIG strategy and actions in Geneva. It refers to the transition from our current mode of production and consumption to a new energy model which is more sustainable and more economical. The energy transition is essential due to an extensive number of factors, such as the depletion of natural resources and the respect for the environment.
The heart of the SIG strategy
Strategy
For several years, SIG has made the energy transition the foundation of its corporate strategy. It is necessary to act on several levels:
Changing our business models and organisations
The energy world is undergoing a total revolution. From a hyper-centralised model, it is changing towards one where there are a multitude of stakeholders of all sizes, which are all involved in an interconnected and dynamic system. The energy transition is the path towards this new world that is pluralistic, multifaceted, resolutely efficient and totally renewable. SIG is committed to making this shift in a proactive and committed way, alongside and through its customers and partners.
Changing the habits of individual consumers
The progressive evolution of behaviours and lifestyles both follows and drives these systemic changes. Households, municipalities and businesses experiment and invent a host of micro-revolutions that enable comfort levels to be maintained, while putting a stop to our energy and our earnings from being wasted. SIG is committed to continuing to stand by its customers, so as to encourage, support and facilitate these initiatives!

Good to know
In Geneva, we have a strong commitment: The canton has confirmed its "General Energy Conception", which is based upon a 2,000-watt, nuclear-free society as a long-term goal. It incorporates the objectives of the Federal Council's Energy Strategy 2050, foremost amongst which is the increase in the share of renewable energies and a reduction in consumption.
As the industrial arm of the implementation of the General Energy Conception, SIG leads or participates in all projects that are essential for the definitive implementation of our energy strategy.
Concrete actions and projects
Actions and projects
SIG plays a leading role in Geneva's energy transition in by targeting the following areas for taking action:
The decrease in the consumption of all energies: electricity and fossil fuels

The development of solar energy

The development of wind energy

The development of thermal solutions in general and geothermal energy in particular

The optimal utilisation of our dams
Solar
Solar
SIG intends to double solar production in the canton by 2023. This will be achieved by:
The construction of photovoltaic plants: in 10 years, solar power has increased by a factor of 10. The canton now has more than 1,200 solar plants..
The sale of Électricité Vitale Vert, which enables the financing and the development of new photovoltaic facilities in Geneva.
The promotion of your solar production: SIG encourages all Geneva residents (private, municipalities, businesses) to develop their own facilities and buys their solar energy at a competitive price.
Thermal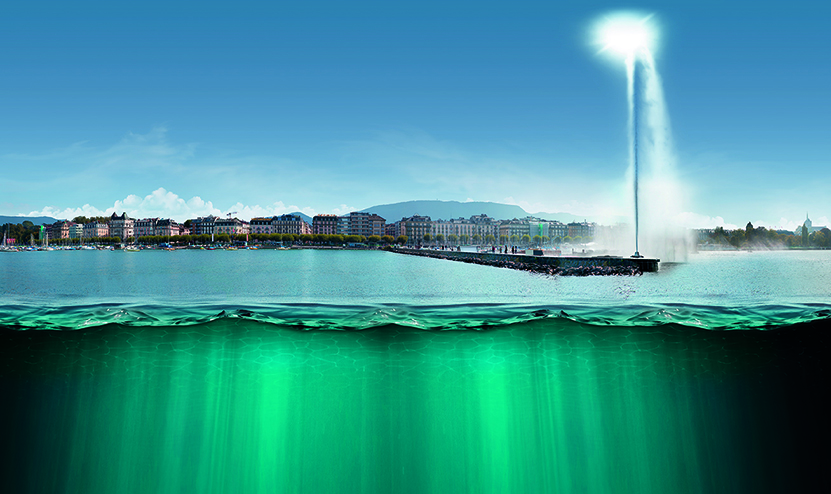 Renewable thermal energy
SIG will achieve at least 50% of the Canton's renewable heat generation goals.
For this, we utilise the heat networks at a district level or larger, and decentralised renewable heat at the building or villa level.
The new heating and cooling systems that have been put in place rely either on the conversion of waste heat (Cheneviers-CADIOM, for example), or on renewable energy methods such as medium-depth geothermal energy or systems requiring a heat pump. They can also use natural gas.

Geothermal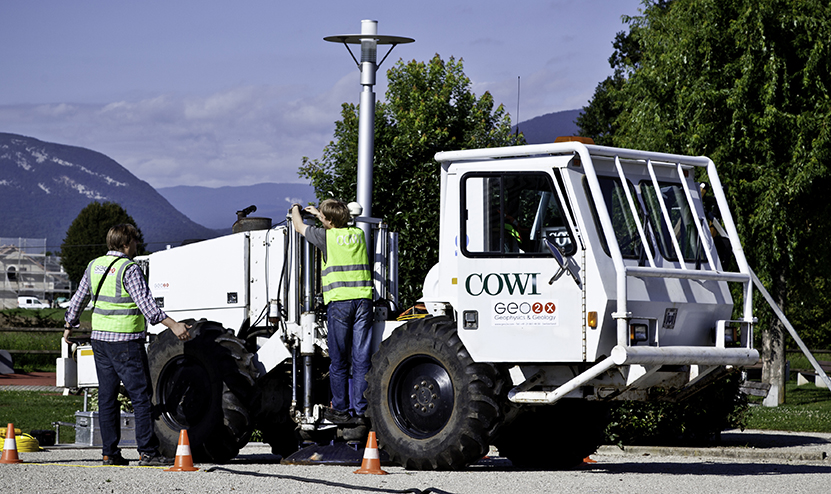 Geothermal
Geothermal energy is a source of local energy from the subsoil that is clean, renewable and continuously available, while having many thermal and electrical applications. There are various stages of surveys and subsoil drilling involved in its development. Knowledge of the Geneva subsoil is therefore a prerequisite. Therein lies the challenge presented by the GEothermie 2020 programme, led by the State of Geneva and implemented by Services Industriels de Genève (SIG). It is in this context that a detailed 3D mapping of the Geneva subsoil has been undertaken since 2014, revealing conditions that are particularly favourable for geothermal energy. As of 2018, this preliminary prospecting will be followed by drilling to a medium depth (over 1,000 m).
See the GEothermie 2020 program
Electricity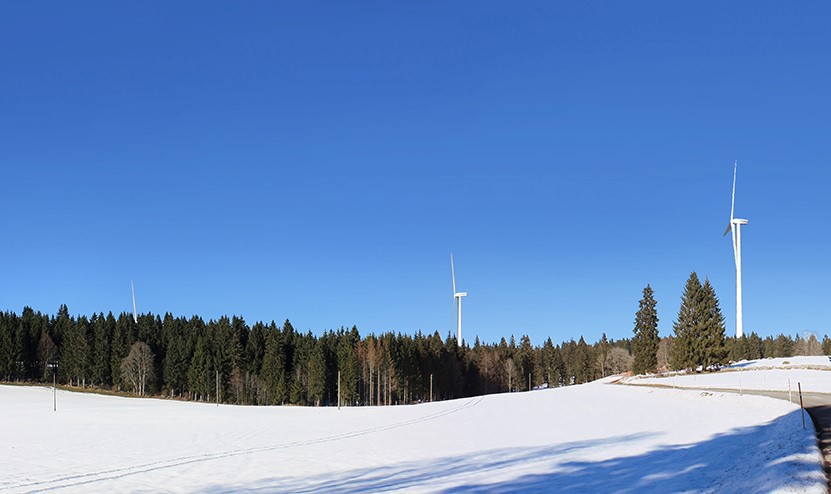 Wind
Recovering wind energy to convert it into electricity has been a major challenge throughout the history of renewable energy. In fact, a single 3 MW wind turbine produces the equivalent of 2,000 households' consumption annually, which is about the consumption of the municipality of Satigny's population.
SIG participates in the development, construction and operation of wind farms in Switzerland when these present both energy and economic benefits, and provided that their environmental integration is optimised.
éco21
éco21
For the past 10 years, SIG has been running the éco21 project, whose goal is to offer concrete solutions to individuals, municipalities and businesses for reducing their energy consumption.
Since the start of the programme, 135 GWh of electricity have been saved every year in the Canton of Geneva and, by 2025, the goal is to reach 300 GWh, which is the equivalent of the annual consumption of 100,000 households, or of the consumption of the City of Geneva's residents.
SIG continues with this ambitious programme for saving energy and CO2 emissions by offering products and services to its customers, and by developing partnerships with local companies and even other industrial service providers.
Impact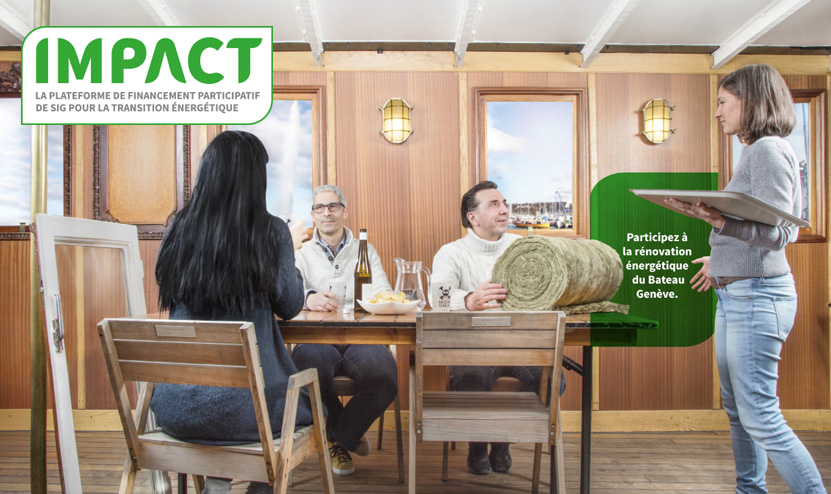 IMPACT platform
IMPACT is a crowdfunding platform.
Its principle is simple: Genevans choose to invest in a project proposed by associations or companies of the canton, to promote the energy transition. They benefit from entertaining or tasty rewards!
Find out more